Axpona 2018 Show Report – Ayon Audio Lumenwhite – Positive Feedback
AXPONA 2018 Show Report – Ayon Audio Lumenwhite My Top Room for Sound
Positive Feedback
AXPONA 2018 was an absolute delight. More head count. More smiling faces. More listening rooms. Friendly hosts. Friendly patrons. It wasn't the shoulder to shoulder crush of people and the waterfall of merchandise like the CES of 10 to 15 years ago, but the good vibes and positive energy was everywhere.
This was the first time that AXPONA was located at the Renaissance Schaumburg Convention Center and Hotel—just 30 minutes from downtown Chicago. Yes, many rooms were on the small side, but from my perspective it was a nice balance of immediacy and critical mass considering the amount of body churn from demonstration to demonstration.
I could enter and quickly find a suitable seat for listening in most rooms. With a little patience and after a few music tracks, I could almost always find my way to one of the prime listening positions as folks moved on to their next destination. I never found myself waiting in a line outside of the room in the hallway.
Seminars were fairly well attended with interesting topics and well informed panels. Most questions were taken with patience and considerable dialogue in both directions. The Expo Room had plenty of vinyl, reel to reel tape, CDs, and SACDs for sale at discount pricing. Dining options were diverse with excellent quality (kinda pricey but typical for this kind of event). Parking was free. All in all a very satisfying and enjoyable experience. Thank you JD Events LLC!  Good job!
From a sound perspective, I was surprised how often I was emotionally moved by what I was hearing if not on occasion gob smacked by certain demonstrations. Congrats to the individual exhibitors who had the typical hotel room challenges. My guess is that there were many long days and nights of setup and tweaking before AXPONA officially opened the doors on Friday morning.
Music sources continue to evolve at these events. There was a sprinkling of CD/SACD players and reel to reel. I spotted many more turntables than I can remember though most seemed to be sitting silently. Music servers were in abundance, but the source of choice was clearly those components that could support streaming and specifically Tidal. I am not sure if I was totally comfortable with this reality, but it does seem to be a reality. Is this a reflection of what is actually happening in most home listening rooms? We shall see.
Though there were well over 160 rooms (and no, I was not able to check them all out so this is a limited sample size), I was able to find several that to my ears strongly stood out from the pack. See my descriptions below. As always, these are just my humble opinions. No need to attack the messenger. My apologies if I missed a few contenders, but I welcome any furtherer comments and opinions by our esteemed readers.
My apologies to the exhibitors and our readers for the quality of the pictures. Most rooms had the curtains drawn and lighting was poor. Next year I will definitely upgrade to a better camera and a more sophisticated flash.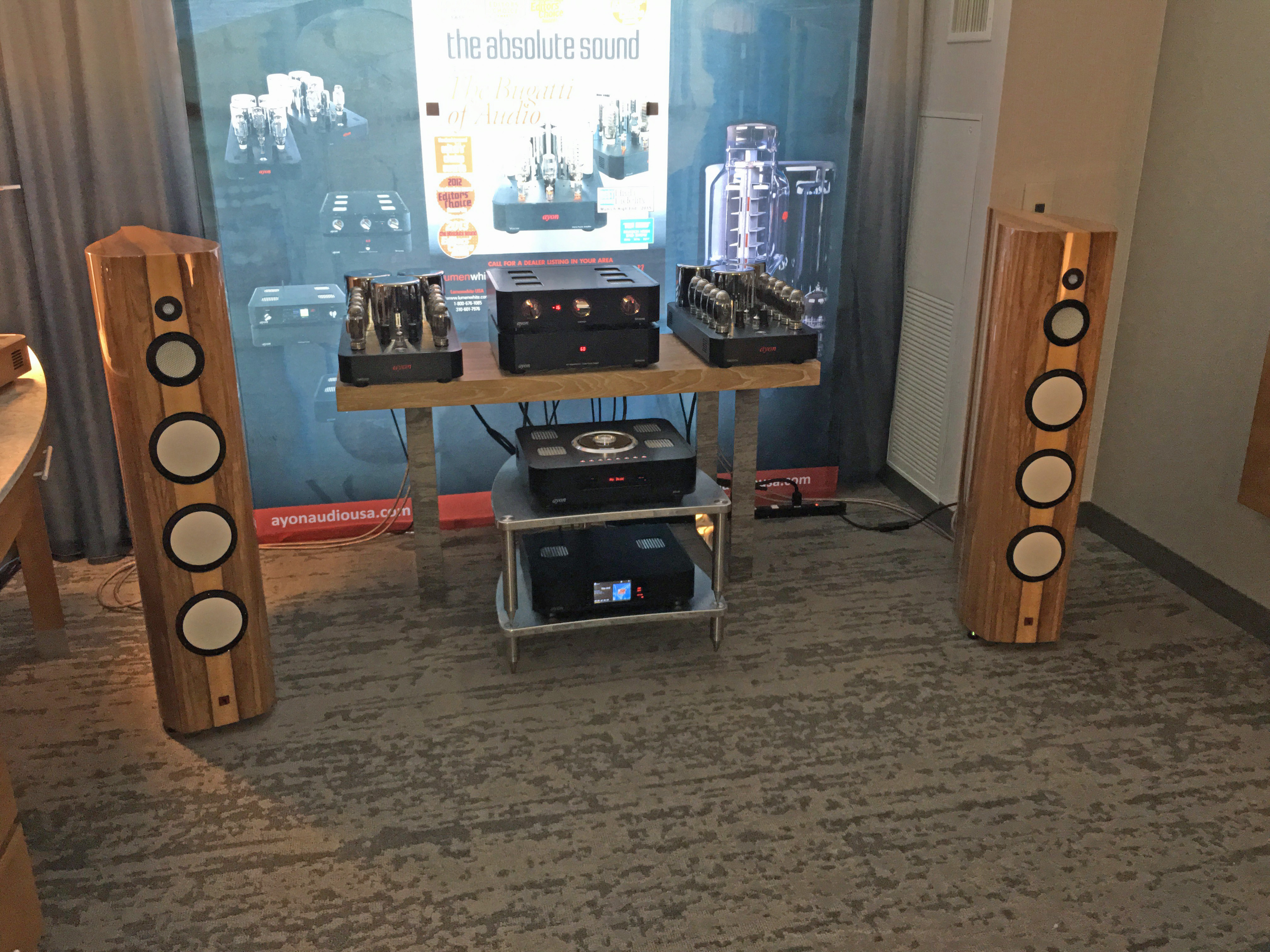 Charles Harrison and his lovely wife Susan are the consummate hosts. Charles is the USA distributor for Ayon and Lumenwhite. There was something special about this room that was extremely warm and welcoming—this included both the hosts and the music. From the moment I took my seat I was quite comfortable if not spellbound.
Bottom line, the sound quality was simply outstanding. I have always admired both product lines, but this year there was a clear jump in performance for this combination. Maybe it was some type of component and room synergy, but I was extremely impressed with the rich harmonic presentation of this system. There was just a natural liquidity and flow that could not be ignored.
I do have some personal experience with the original CD-35 SACD/Preamp/DAC. Already a state of the art contender in its initial release, the Ayon CD-35 HF has now pushed the envelope on digital performance even further. I would love to hear a shoot out with the new dCS DACs and transports.
Even beyond the sound, the physical design and aesthetics of these components are quite striking. Fit and finish is exemplary. As always, the Lumenwhite Kyara speakers in particular dazzled the eye and manipulated the heart. Don't just be seduced by the elegance and allure, this system delivered the sonic goods.
Ayon Orthos II XS Mono Amplifiers ($27,000)
Ayon Orthos Spheris III Preamplifier ($34,000)
Ayon S-10 Signature Network Player ($8500)
Ayon CD-35 HF SACD/Preamp/DAC ($22,000)
Lumenwhite Kyara Speakers ($49,000)