Ayon Audio CD-35 Audio Reference Posting
Ayon CD-35
State-Of-Art tube CD/SACD Player / DAC – fully balanced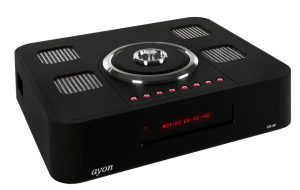 CD-35 CD/SACD PLAYER(w optional PREAMP & Signature modules avaibale extra)
The Ayon CD-35 establishes a new benchmark in SE-Triode vacuum-tube CD/SACDPlayer performance by combining a fully balanced PCM-DSD DAC.
The CD-35 is also prepared for computer playback and general DSD professional audio use.
The CD-35 is in many respects a new ground-breaking CD/SACD-Player design with an advanced technology like a new vacuum tube output stage, new magnetic clamp system with separate CD-LID, new DAC design and a switchable PCM-DSD converter (DSP module).
Note – the CD-35 replaces previous CD 5 which has been discontinued.
HIGH FIDELITY GOLD FINGERPRINT AWARD: 
"for the first time ever I decided to grant the GOLD Fingerprint award to the product that costs less than interconnects used to hook it up".
REVIEWERS COMMENT ; 
The audio world is dangerously heading towards price absurdities. The more expensive a product is, the more people write about it. Some of these devices are really worth paying attention to and truly make us understand sound better, but most of them are just manufacturers' attempts to earn a lot of money. Gerhard Hirt, the owner of Ayon Audio, has a different idea. He thinks that it is more important for as many people as possible to be able to buy a high-end product without ruining their family budget to the sixth generation. It is for them that he has prepared his new to p class source – a player that has been ostentatiously called the CD-35, even though it also normally plays SACDs. Its secret lies in refined up-sampling of PCM signal to DSD signal, the results of which have never been so good before. The device, which costs less than €10,000, can be freely placed next to players that are three times as expensive and it will not necessarily be the loser
REVIEWERS COMMENT ; 
The SACD format, which promised so much, has previoulsy never really seduced me. Even the best players in my ears did not present any special advantage of SACD format over the CD. Ayon CD-35 was the first device that changed my mind about it, …..Wojciech Pacula  Sounds Inc Audio Solution
REVIEW SUMMARY: 
"CD versus SACD versus DSD256: With CDs played back the Ayon CD-35 is a very musical machine. When music asked, the macrodynamical contrasts were huge and the player made lamps and chairs swing in the rhythm, while I was nailed speachless to my listening chair.
The spatial perspective, lateral and front-to-back, is wide and deep, with very fine resolution. If you are the soundstaging freak, then the Ayon CD-35 may be the right player for you. It paints the sonic pictures with robust strokes and a bit of pomp, not unlike in a cinema where the actors on the screen are bigger than life. This is an exhilarating experience in the audio world where soundstage is often miniaturised.
Well, I liked the sound very much in the red book format, but once the player is switched into the SACD mode I could hear immediately how inferior the sound of CD is to it. Take Orchestrio Zurich and Pictures from An Exhibition (Exton), play it through the Ayon CD-35 in both formats and here you are: in the SACD mode the room disappears and musicians start to wiggle in their chairs right in front of you, in your room. This recording has amazing ambience recorded and the Ayon could deliver it with aplomb.
What I found interesting, though, was that the sound of the SACD was not that much different from the PCM upsampled with the DSD256. Does it mean that the Ayon neglects the SACD layer by virtue of an inferior technical solution, like Wadia or Soulution players? No, when I compared the SCAD layer with my reference player it was almost as good. What the Ayon does is that it digs out extra information, or better, it undigitalize the PCM layer through the very clever DSD256 upsampling towards higher fluidity and openness. I do not know any other player that is capable of similar magic.
My resume is very simple: considering its price the Ayon CD-35 Signature SACD player aspires to one of the best buys in the high end audio industry.
Based on a zero-feedback, pure tube circuit design and a tube rectified power supply, the CD-35 reveals the manifold layers of music with utmost transparency while projecting a deep and highly focused 3D soundstage. Its bass is extended and powerful, its midrange pure, liquid and permeated with natural warmth, while the top is extraordinarily clean and finely detailed. 
This Reference CD/SACD-Player offers an uncompromising quality level in every aspect. The CD-35 is one of the most exciting CD/SACD-Player with vacuum-tube output stage and the best sounding CD/SACD-Player what Ayon Audio ever built".