Ayon – BlackEagle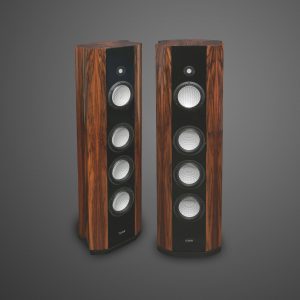 " Timeless design, modern elegance and outstanding technology "

A loudspeaker masterpiece with breathtaking musicality, transparency and extraordinary Soundstage! 

The BlackEagle is the consistent advancement of the legendary former Ayon ceramic loudspeaker series (Seagull, Hawk, Falcon, and Eagle) anno 2003 – 2010. Only 9 years later with the new ceramic chassis technology we could develop further the loudspeaker decisively mounting ceramic chassis. Implementing specially produced higher impedance ceramic bass-chassis-coils we could draw the overall impedance up and design the acoustic all-over 6dB cross-over much simpler. Also, the improved "almost not damped" elliptical Ayon instrument plywood cabinet (with its unequalled all-around radiating characteristics – by means of the elongated elliptical front plate the sound being carried into the room far and quasi "all around") further contributes to the very easy operation of amplifiers, particularly the lovers of low-powered solid-state, Class-A amps and tube amplifiers could hardly avoid this loudspeaker. The BlackEagle distinguishes itself by a very three-dimensional, sophisticated, transparent, light-footed, and spatial reproduction, with the bass playing dynamically, deep, and powerful. The midrange and high tones are gorgeous, brilliant and extremely rich in musical detail and very speedy. The general breathtaking transparency and dynamic linearity speaks for itself! The BlackEagle is an audiophile universal genius, incarnating all attributes of an uncompromising reproduction of the absolute highest level.