Ayon CD-35 HF
Best Product of 2017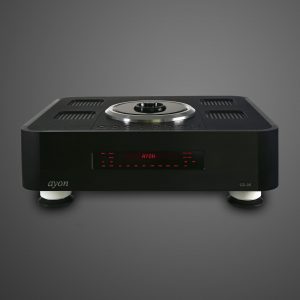 Whipped up by the great success of the CD-35 we got more and more requests to launch a special and limited Version of the CD-35, quasi a "digital" machine that should as "analogue" as never before. All music lovers engaged in top analogue turntables and/or reel-to-reel tape recorders also may feel to be approached. Many ideas, thoughts, suggestions, and a dedicated assistance of the people of the HighFidelity.pl magazine also were incorporated in the CD-35 HF project. Based upon the existing CD-35 technology every detail was re-examined carefully, refined, high-selected, re-adjusted, and the best-sounding components were implemented at the decisive points of the circuitry. Also, its slightly modified appearance, equipped with additional black elements, underline the exclusivity.
The CD-35 HF reflects a deep magical illumination of space, paired with a dynamic black deployment of power second to none. With its enormous musical representation and its tranquility in detail also the "long-term listening" is always experienced as being relaxed and inspiring.
Herewith, a new era of digital/analogue CD-reproduction presents itself in the foreground, a masterpiece of the art of sound.