Ayon CD-3sx : Fidelity – September/October 2014, Germany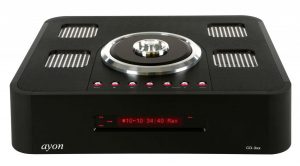 Ayon CD-3sx
Review summary: English Translation
The fundamental sound signature of the CD-3sx really – independent from the source – is in the very best sense "ayonic", i.e. bursting with energy, enormously rich in content, and , let's call it this way, "juicy", in the sense of sappy. Delicious: a strong stirring joy of listening that always expands from the bottom, off the bass, from the musical fundament and in a well-shaped, room-filling stature light-footed up to the highest realm. The CD-3sx guarantees e.g., that even mediocre or significantly lean productions seem to be "earthed" advantageously and lead into the music with recognizable substance and body volume. I liked it very very much. It touches your feelings without deviation. And, as if only a "CD-player": in practice both the preamplifier as well as the DAC-section of the Ayon CD-3sx turn out to be really very good that with it on the rack there is no practical reason to continue looking for a preamp or external converter.
Test Fazit: German original
Die grundsätzliche Klangsignatur des CD-3sx ist nämlich – unabhängig vom Datenlieferanten – im allerbesten Sinne "ayonisch", also vor Energie strotzend, enorm gehaltvoll und, nennen wir es ruhig mal "saftig", im Sinne von Saft und Kraft. Herrlich: ein starkes, mitreißendes Hörvergnügen, das sich stets "von unten heraus", aus den Basslagen, aus dem musikalischen Fundament und in wohlgeformter , raumfüllender Gestalt leichtfüßig bis ins höchste Gefilde hinausreicht. Der CD-3sx garantiert beispielsweise, dass selbst mittelmäßige oder auffällig schlank wirkende Produktionen vorteilhaft "geerdet" wirken und mit erkennbarer Substanz und Körperhaftigkeit in die Musik hineinführen. Mir gefällt das sehr sehr gut. Hier geht es umweglos ans Gemüt. Und von wegen "CD-Player": In der Praxis entpuppt sich sowohl die Vorverstärker-als auch die DAC – Sektion des Ayon CD-3sx als dermaßen gut, dass es mit ihm auf dem Rack praktisch keinen Grund gibt, noch weiter nach einem Vorverstärker oder externen Wandler zu suchen.