Ayon Crossfire III –Stereoplay Review
April 2013, Germany; awarded as Stereoplay REFERENCE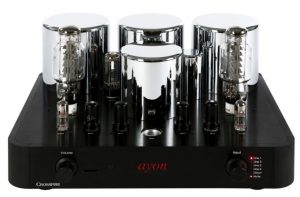 Review quotes: English Translation
Enchanting. Tempting. Presenting the nature of the music absolutely to the point. The Ayon triode perfectly manages the rare mix of highest resolution and warmness, a fine presentation without the slightest harshness.
Compared with the …….amplifier voices had more acoustic colour, the chant was even more vivid. Moreover the plasticity of the representation was so close, so true, that almost nobody had heard anything better before.
Combined with the right loudspeaker it ranks among the best sounding amplifiers worldwide.
German original:
Zitate: Bezaubernd. Verführerisch. Absolut das Wesen der Musik treffend. Der Ayon Triode gelingt diese seltene Mischung aus höchster Auflösung und Wärme, eine feine Darstellung ohne jegliche Härte.
Im Vergleich zum …… hatten Stimmen noch mehr Timbre, war der Gesang noch lebendiger. Außerdem war die Plastizität der Darstellung so nah, so echt, dass kaum einer schon vorher etwas besseres gehört hatte.
Am richtigen Schallwandler gehört er zu den am besten klingenden Verstärkern der Welt.