C.E.S. and T.H.E. Show 2003 Part 3: Oases of Beautiful Music – Best Sounds of the Best

C.E.S. and T.H.E. Show 2003
Part 3: Oases of Beautiful Music – Best Sounds of the Best
March 2003
by Greg Weaver
Acoustic Dreams, of Fairfield, IL, the exclusive US distributors of Lumen White, Ayon and the V.Y.G.E.R. turntables, were hosts to another room that consistently left me with goose bumps. Their room this year was even more enthralling than it has been in the past.
The most dynamic sounding turntable I can recall hearing, the $36,000 V.Y.G.E.R. Indian Signature Turntable, is also one of the most striking analog transcriptors you will ever see.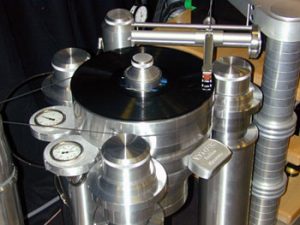 The sonically stunning and visually arresting V.Y.G.E.R. Indian Signature Turntable
Amplification in this room was provided by the Ayon 52-B Reference Amplifiers, which are 55-watt amps based on the 300B and priced at $24,500 a pair. Loudspeakers were the $40,000 Lumen White Whitelight Reference, which use a 1-inch inverted dome ceramic tweeter, a 3.5-inch inverted dome ceramic midrange and three 7-inch ceramic woofers in a proprietary "jetvalve" vented enclosure and boast only 7 crossover components. Acoustic Dreams fabricates both the equipment stands ($6,000) and the Dead Ball Isolation devices (set of 3/$190) that were used to display the entire system.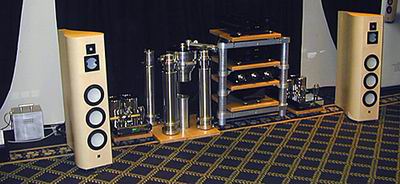 In the running for best sound of the show, the Acoustic Dreams room was an absolute delight.
While listening, I was completely taken by how dynamic the system seemed. This was striking to me as many digiphobes who choose to pooh-pooh vinyl point to the specs to show how digital is so much more dynamic than records. Yeah, right! Maybe on paper, but certainly not it the real world. At one point, as we were discussing the minutiae of the system, I mentioned to Bruce that it seemed somewhat loud. He smiled, grabbed an SPL meter and showed me that the room never hit peaks over 80 dB! Now that is a good sign. This room was clean, fast, warm and harmonically rich.This room was well set up and achieved a wonderful balance between the so-called hi-fi attributes (detail, transparency, resolution) and musical communication. Luxuriously rich and liquid, delicate tonal development, macrodynamic attack approaching the live event and a coherent voice set this room apart from much of this years competition. What was truly astounding to me during one of my three trips back to this room to just listen was a demonstration by Bruce Featherling.