Ayon Audio S-10 II Network Player – Hi-Fi News Post

Ayon Audio S-10 II Network Player – Hi-Fi News Post
By Greg Borrowman | Wednesday, 20 March 2019 06:06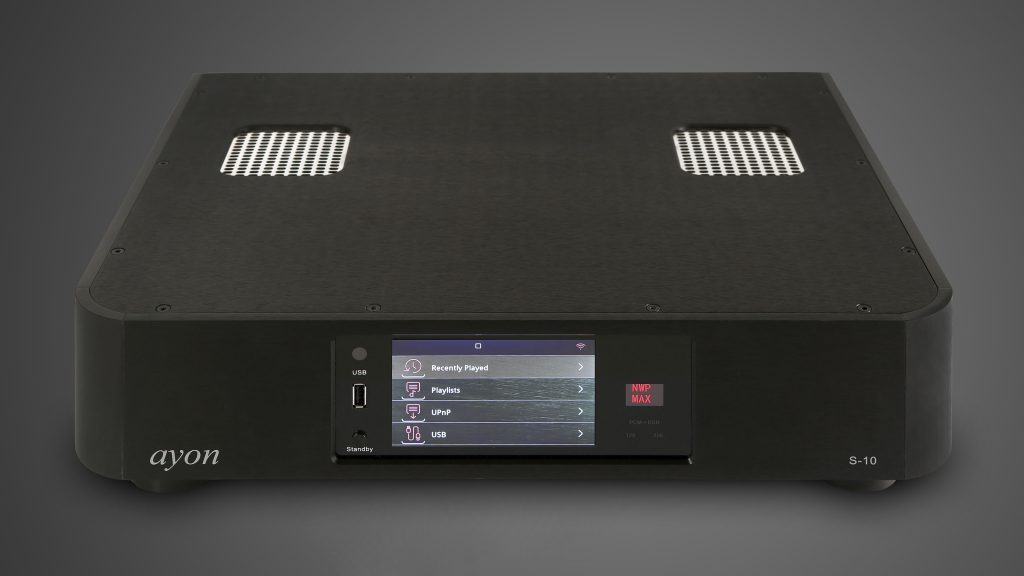 Ayon Audio has released a Mk II version of the S-10 network music player it introduced in 2016 which uses a Class-A output stage based around a 6H30 dual triode.
The new player features a new dual mono digital-to-analog converter, an updated PCM–DSD converter that can now convert any type of PCM signal to DSD, plus of course it maintains features introduced in the original S-10 including the ability to playback from a computer or a USB drive, plus you can connect a separate server with your choice of hard disc capacity. It also, like the original S-10, has an analogue preamplifier section with its own analogue volume control. The Class-A triode valve output stage of the Ayon Audio S-10 MkII can be configured for single-ended or fully balanced operation. 'The S-10 Mk II continues Ayon's modular design concept, so that customers can configure it to suit their specific requirements,' said Boris Granovsky, of Absolute Hi End, which distributes Ayon in Australia. 'But with the S-10 Mk II Ayon has implemented a completely new streamer platform and it has designed it so that existing S-10 owners can upgrade their units to Mk II performance.'
Also upgraded is the S-10 MkII's power supply, which uses a low-noise R-core power transformer with separate power transformer windings and filters for the digital and analog sections, along with eight separate voltage regulators. In order to increase the response speed, Ayon Audio says it has 'greatly increased' the capacitance in the power supply.
'Ayon believes that the simplest circuits work best together with the shortest signal path. The shorter the signal path is, the less possibility of sonic degradation from various sources, including the wire itself,' Granovsky told Australian Hi-Fi Magazine. 'That is why Ayon's pre-amplifiers to date have used single-ended pure class-A circuitry.'
All the Ayon S-10 MkII's controls are monitored via the QVGA 127mm TFT display and controlled via a free app available for iOs and Android. Streaming functionality is provided by a new StreamUnlimited module while the internal server option uses a custom-made JRiver media server FW directly developed by JRiver that means Tidal, Qubuz, and HiRes Audio are directly integrated with it, plus there's dual-band wi-fi and two Ethernet ports. The DAC (also new, from AKM) can accommodate PCM or DSD (DIFF, DSF) and most formats including WAV, FLAC and AIFF, either wirelessly or via ethernet, or via the digital inputs (S/PDIF, Toslink, USB-B and USB-A). You can option in analogue inputs, plus you can option in a PCM to DSD converter (up to 256× switchable). Also available optionally is a server with your choice of HDD or SSD drive in your choice of size.
Available now, the Ayon Audio S10 MkII is available in standard form for $11,500 (RRP) or in a 'Signature' version for $14,690. The preamplifieroption adds $1,390.