Ayon Audio Triton III Review – Positive Feedback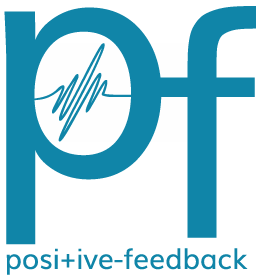 Ayon Audio Triton III Integrated Amplifier
I have always been a fan of Ayon products. While many of their offerings are not for the faint of heart from a cost perspective you can generally count on the company to produce some of the finest gear around and you could spend a lifetime listening to an Ayon based system without complaint for a very long time indeed.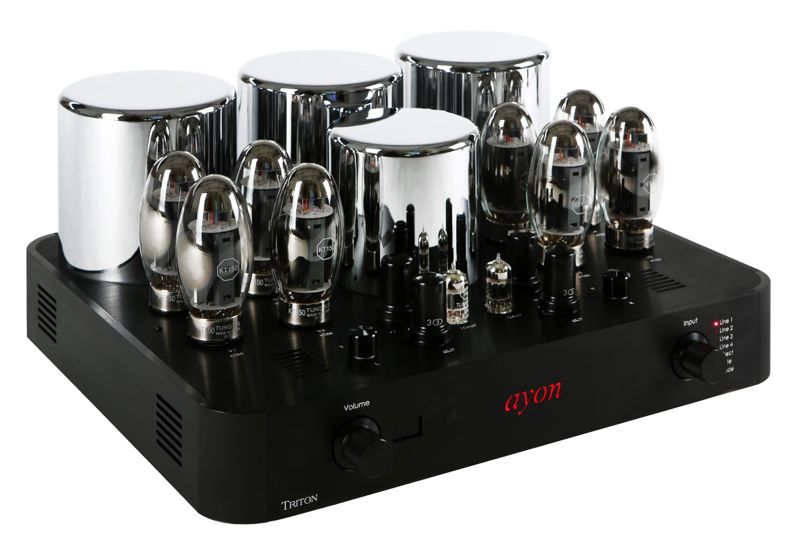 The Triton III integrated amplifier represents a financially effective way to jump into the benefits of Ayon ownership without going into negative income crisis and pairing it with the right components could create a great lifetime system and the perfect springboard to some of their heftier offerings which I have reviewed in the past. It is a full-featured pure class-A tube stereo integrated amp switchable between pentode and triode mode making it ideal also for more difficult loudspeaker loads. Say, who does NOT like that? As always it does not hurt to have a friend to help you lift and place this amp. Ayon makes no lightweight gear that I have seen!
Ayon combines incredible build quality with a classic understated yet elegant beauty that never ceases to deliver an aesthetically pleasing experience to both ears and to the eyes. Suffice it to say the WAF is always high. Paula always takes note when we have an Ayon piece in the house from both the visual and audible perspectives. That is saying a lot since she is not so much the dedicated listener like her husband.
I do have one nitpicking, no, make that two nitpicking little things to complain about and I would prefer to get them out of the way now.
First nit to pick… If you are not familiar with the brand and you are a normal guy who reads the instructions only when it is a last resort, then you may spend days figuring out how to turn these things on! The placement of the power switches is on the bottom of the chassis and depending on unit can range from right at the lower left corner to somewhere east of that. A little visual clue as to location, say a dot on the front of the chassis directly above it would be nice.
Second nit to pick… Can we please have a BLUE led option for illumination? The red conflicts with the blue lighting scheme of my room and it interferes with my fung when I am shwaying!
Okay I have that off my chest. Now for the more important and more positive things.
Let's take a look at the basics as described by the manufacturer:
Class of Operation is switchable between Triode or Pentode mode, Class-A. Power tube complement consists of 8 x KT150s. Load Impedance is either 4 & 8 Ohms. Bandwidth is stated at 8Hz-70kHz. That set of power tubes mentioned above with give you an output of 120 watts per channel in Pentode mode and 70 watts per channel in Triode mode. This integrated amp is no fly weight. Even in Triode you can push some serious air volume around the room.
Frequency Response is rated at 10Hz – 60kHz, with an Input Impedance at 1kHz 100KΩ.
The Input sensitivity (full power)is 1V NFB .0dB
It boasts a Volume Control that is MCU based with analog resistor switching circuit (1,5dB per step) operable with Remote Control! Love those remote controls more and more everyday as I climb into my 60s!
Input Compliment is 3 x Line IN, 1 x XLR IN, 1 x Direct IN, with Outputs being one 1 x Pre Out
Chassis dimensions (WxDxH) 21 x 17.25 x 10.25 inches
Weight 100 pounds.
Let me tell you it is every bit of that 100 pounds. The part I like less and less as I climb into said 60s. Find a good home for it and leave it there!
As is always the case with Ayon products they come with top notch packaging. Two boxes and incredible inner packing. All tubes have been pre matched to the unit and are clearly marked. Once you locate the amplifier where you want it the tube install is quick and easy! The operator's manual (for those inclined to use them) is very straightforward and simple just like I need in my golden years. Yay for the AARP crowd.
Once up and running I let it run in for at least 50 hours or so. I have found that with Ayon products letting them run in for sufficient time leads to a far more enjoyable listening experience. The Triton III was no exception.
As I always do I provide a space for the manufacturers description of pertinent facts and this piece is no exception. So without further delay here are a few words directly from Ayon:
Triton III Features and Specifications
Vacuum Tubes
The choice of signal and power tubes have a significant influence on the sound and hence on the inspiration and joy of listening. This is not only the decision between good and bad tubes but finally the interaction of the different types of tubes and their combination that are used in the various Ayon amplifiers.
Signal Path
We believe that the simplest circuits work best together with the shortest signal path. The shorter the signal path is, the less possibility of sonic degradation from various sources, including the wire itself. Even on the circuit boards, the copper traces are kept to a very minimum length. The completely redesigned circuit board provides a more straightforward and direct approach to the signal paths.
Logical sequenced soft-start power up for extended tube life
Power tube and electronic protection circuit system
0dB negative feedback  (of any kind )
Ultra short signal path
Simplest direct circuit path for purest musical sound and high reliability
No solid state devices in the signal path
High current and low impedance design that operates tubes in the best areas their curves
Minimal discrete wiring for optimum signal propagation
Automatic and manual bias adjustment
No followers or buffers in the signal path
High quality parts throughout
Selector switch engages relays located near RCA jacks to switch all inputs
Power Supply
The power supplies have been further refined with new components and enhanced AC line noise filtration. Separate power transformers, chokes and filters provide total isolation between the input and output stages which makes this a pure power source. We also use electrolytic capacitors with much larger storage capacity to make up for the loss in filtering when using resistors in lieu of inductors.
2 separate low noise – insulated power transformers
Power transformers are encased, excellent damped and RFI/EMI shielded
Innovative power supply provides a high speed energy delivery on transients
Dual choke filtered power supply for power tubes
Choke for pre and driver stage
Separate and isolated power supplies over each stage of amplification
Regulated DC filament supplies with soft start
AC power line filter to avoid noise and hash from entering into the unit.
High capacitance energy storage.
Current in-rush limiting
Auto sequencing – Power on cycle completes in 1 minute
Dual Grounding System
The modification of the grounding topology leads to increased rejection of noise from the power supply and other areas. The dual grounding topology used in all of our amplifiers is quite unique to the whole hi-end tube amplification industry. Such extensive topology provides for quieter backdrop for which the music can unfold in its entirety. It further establishes the quick and controlled bass response and the full bodied expression of the high frequency. The ground leg of the signal has not been neglected and given meticulous attention in its implementation. The importance of proper grounding cannot be over emphasized.
Ground switch
Central one-point star earth grounding
Dual grounding system (switchable)
Output Transformer
The super-wide bandwidth output transformer's major strength is that it can deliver the current in the bass, while at the same time maintaining the speed in the high frequencies, dramatically improving the square wave response of the amplifier. The effect is a much more natural and relaxed sound with much better clarity, resolution and fluidity.
Super-wide bandwidth high performance output transformer
High efficiency with low insertion loss for optimal current and voltage transfer
Multiple tight layering and coupling for extended frequency response
Output transformers are sealed with an anti-resonance compound material
Components
The type of parts used therefore must have a synergistic relationship to the circuit they are placed in. It is this relationship of which type of part to use where, that ranks our products apart from the mass.
Selected, premium quality passive components used in all applications
High speed  & high quality audiophile grade coupling capacitors
Special tube sockets with beryllium- copper spring pins, custom made by Ayon
Ayon high quality – binding posts
High quality – RCA input jack
Neutrik/Swiss – XLR chassis connectors
Special isolated – internal wiring
Silver-copper matrix – internal signal cable
Gold-plated industrial grade PCB
All wiring to the circuit boards is done with the use of special pluggable pin- connectors.
This is done for easy of repair should ever the need arise.
High Grade Speaker Binding Posts
The new ayon gold plated solid body speaker binding posts provide performance levels that are truly in the very High End. The solid body construction ensures that there is no gap or breach in the flow of electrons. The gold plating provides for superior contact and resistance to oxidation. These binding posts are chosen primarily for their sonic performance, edging out even more expensive counterparts.
Mechanical Construction
The high grade aluminum chassis impart a richer, more lustrous tonality with a cleaner background and less hash and grain. All brushed anodized anti-vibration-resonance and non-magnetic chassis's are fully hand assembled to insure the highest level of craftsmanship.
Improved heat ventilation chassis
Custom-made machined control knobs
The aluminium feet are resonance absorbing types
Backlit "ayon" logo
All front & rear panel descriptions are engraved
4 line inputs & 1 direct input – for pure power amp operation
Ground switch
AC phase polarity control indicator
Volume & Mute function – RC
Metal remote commander
Chassis finish: black / chrome
Well what does all that actually add up to in the way of sonic satisfaction? Quite a bit actually! Once sufficiently run in the Ayon Triton III acquitted itself right smartly. This is one very refined sounding amplifier with the ability to move your homes foundation at full throttle. At more sane listening levels it is capable of providing punch in the bottom end, very accurately I might add and delicacy to the mid range finishing with suitable sparkle on the top end. That is a very nice hat trick to witness from an integrated amp.
At the same time I had the Triton in my listening room I also had the privilege of having the Ayon CD – 3SX (see separate review coming soon). This combination was the prevailing setup during the visit but I also ran my Cary Audio CD player through the Ayon with outstanding results. There is a symbiosis between components from a singular manufacturer and this duo was no exception but I would mate any number of CD front ends with the Ayon with the full expectation of some serious audio bliss. That is always a matter of personal taste and some may want to mate a full digital CD with the tube amp for balance. What I can say is the amplifier handled everything I threw at it including my vinyl rig without so much as a hiccup, burp, fart or complaint.
Out of the box it sounded a bit lean in the bottom end which was not what I expected considering the tube compliment. After a good 80 hours of run in and some tweaking the bottom end came out in full bloom. I have always found that Ayon products benefit from a serious run in protocol to get the most out of them. Once they are sufficiently burned in they just come to life. This amp was no different than previous Ayon products I have reviewed.
Strong suits of the Titan III include, but are not limited to delicate highs, creamy smooth mids, and more than adequate bass at moderate listening levels. Want a bit more? Well much like a turbo charged car at moderate revs the thing performs admirably, but never sets your ears on fire. Kick up the revs (aka volume) and it becomes a monster capable of realistically replicating a live event with all the staging depth, width, height and slam you expect. I am not talking about a Jeckyl and Hyde comparison but rather something a little more refined. As the volume ramps up so do all the best things about this amp, but they come in a very nice linear progression to a point, and then it is like turning on the audible light switch and you can hear many, many more details.
I have recently changed up my standard listening selections to accommodate more diverse musical genre. When I sat down to do seriously focused listening I went to some newer stuff. Jack Thammarat is a up coming guitarist from Thailand. Jack is a phenomenal player and great tune writer. His compositions have a great balance between searing guitar pyrotechnics and lilting melody lines. The tune "Never Again" (direct download from iTunes) is a fine example. Jack does a great job of mixing up his picking technique between picking each note, sweep picking, finger picking and hammer on/pull off and often in the same run. Good systems will give you a smooth seamless presentation with plenty of bloom. A top tier system will allow you to instantly tell when the guitarist switches between techniques mid lick and that just always brings a smile to my face. Here is where the Titan elevates itself above good and straight into the realm of outstanding. The detail it is able to deliver at all levels caused me to sit up and take very serious notice and begin to look for tracks that could challenge this phenomenon to be sure it wasn't just one particular track.
The late and rather great Jimmie Spheeris' track, "For Roach", from the album Isle of View, (Columbia Records 1971) was so intimate that I felt like Jimmie had returned from the other side to sit in my listening room and perform this perennial favorite of mine. The light touch to the acoustic guitar and his almost whisper like voice were so real and delivered with a breathiness that is often lacking in recorder tracks versus intimate live tracks. This is a great track to tell if a system or a new addition to your existing system is going to measure up or not. The Ayon did NOT measure up! Oh no it did NOT. What it did was way exceed my expectation of delivering that intimate, up close experience. Quite honestly it did this better than most amps I have listened to that were not low power, single ended 300B based amplification sources.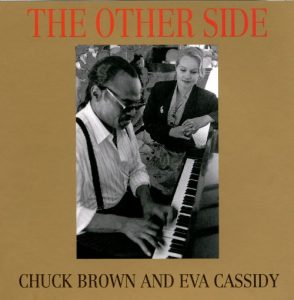 With female voices, always a benchmark test in my opinion, the amp came through with such fine and delicate delivery. Eva Cassidy's, 'Somewhere Over the Rainbow", from the album The Other Side with Chuck Brown (Liason Records 1992) is easily the best version of this song that I have ever heard. Stark in its arrangement but so rich in the depth and breadth of the emotional impact from her voice it is always part of any review I do. As with the best systems the Ayon helped deliver a soaring and detailed rendition of this recording. Tunefulness is something most any reproduction system can provide these days. The difference between an adequate system and one that is truly exceptional is the ability to deliver the emotion in the song unbridled and unrestrained. Here the Ayon delivered everything I have come to expect from the marque. Just brilliant. No strain, no distortion, the Ayon simply removed itself from the music and left it all there bare and naked.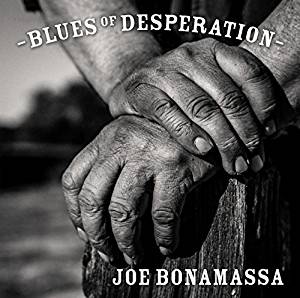 For sheer slam I moved to a track off Joe Bonamassa's new Blues of Desperation album (JR.  Records 2016). the title track is a very deep and throbbing blues rock number featuring the rock solid drumming of Anton Fig. This track is heavy in the bass region and kick drum, tom tom action. It comes through with the exact right amount of slam. You van feel the bloom from the kick drum and it drives your gut right into the depths of the song. What is great about the delivery is that it supports, rather than dominates the rest of the band on the track. It brings the rhythm and pace right straight to your face and lets the rest of the band riff and build off of it. That is what I am talking about.
On violinist Nicola Benedetti's performance of "The Four Seasons, Op. 8, Concerto No.2 in G Minor, with The Scottish Chambers Orchestra her playing is almost savage in the intensity that she brings to the performance. There is no doubt about her confidence in this piece and her ability to deliver it with pure fire and explosive playing. The ability to isolate her performance within the orchestra without diminishing the overall performance of the other musicians is a hat trick. No doubt she is the star of the show but she is the featured musician in a all star type performance which is lifted by the rest of the musical cast. So balanced in the recording and equally so in the delivery by the Ayon.
In the end every single piece of gear that gets reviewed is subject to the personal bias of the reviewer and how neutral that writer can remain in their evaluation of the item in question. Ayon makes it relatively easy to maintain a neutrality because the gear delivers very neutral and balanced performance. In essence it removes itself and colors nothing but rather delivers the source material as close to the way it originally sounded without additions or subtractions.
As I stated at the beginning this wonderful integrated amp could anchor a rather long term and totally satisfying system that would leave you wanting precious little in addition. Pairing it with equal quality components could make for one happy audiophile for a lifetime. In particular a good match up is the Ayon CD-CD3sx, which I am also reviewing. I could live with the Ayon Triton III /CD3sx indefinitely in my system. This is a highly recommended unit for your auditioning. I am sure you will find it to be a great overall performer and at the price a real bargain in the land of high end audio! Now if we could just get those blue lights.
Ayon Triton III Integrated Amplifier
Ayon Audio USA
8390 E. Via De Ventura
F110-194
Scottsdale, AZ 85258
(800) 676-1085 Ext 2 – 1-310-601-7976 Ext 2
www.ayonaudiousa.com