Ayon Audio Triton III – Positive Feedback Writer's Choice 2016 Award and Review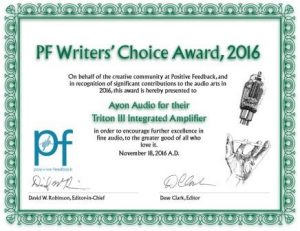 Beginning at the end of 2003, PF established its first annual awards for fine audio. The Brutus Award was established for the best that David Robinson and Dave Clark had heard in their own listening rooms during that year. You can think of it as our equivalent of an "Editors' Choice" award.
The Gizmo Award, on the other hand, was established in memory of our very good audio friend, Harvey "Gizmo" Rosenberg, and is given by David Robinson to the most conspicuous audiomaniac(s) of the year. Only one Gizmo is given per year.
The following is an opportunity for our editors and writers to recognize superior merit in the audio arts though their "Writers' Choice Awards". Our writers and reviewers have been given broad leeway to cite excellence in fine audio wherever they find it: products, people, recordings, events, groups, etc., so that our readers can be better informed.
It is our hope that you will find the PF Writers' Choice Awards to be helpful to you in your audio journey.
All the best,
Positive Feedback
Ayon Triton III – Positive Feedback Writer's Choice 2016 Award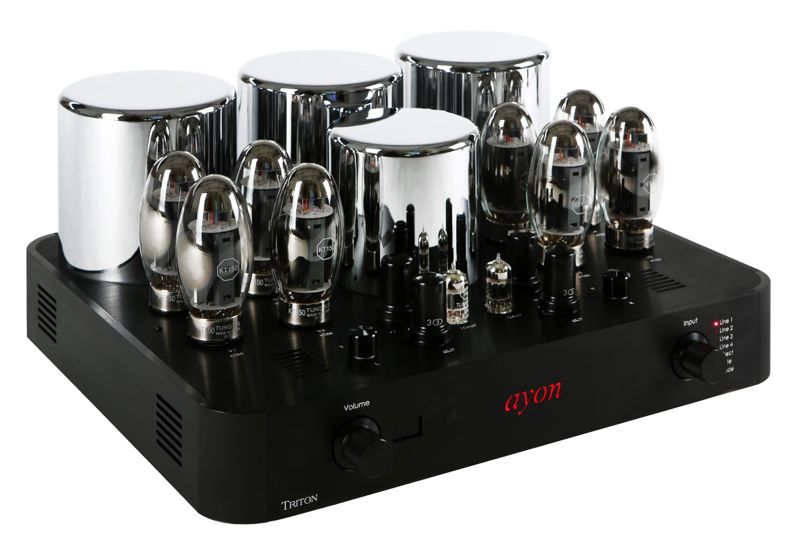 I have always been a fan of Ayon products. While many of their offerings are not for the faint of heart from a cost perspective you can generally count on the company to produce some of the finest gear around and you could spend a lifetime listening to an Ayon based system without complaint for a very long time indeed.
The Ayon Triton III amplifier is my pick for product of the year. Balanced, powerful enough to drive any speaker, delicate enough to deliver whispers that will make the hair on your arms stand up, dynamic enough to take you from the softest passages to the most dynamic orchestral passages with slam and presence to die for! This is an integrated amp that can and will deliver it all. All wrapped up in some of the best cabinet work with aesthetics that easily pass any WAF test with flying colors. (Just ask Paula—she is big thumbs up on aesthetics and sound).
Definitely recommended!
A little more about the Triton III:
The Triton III integrated amplifier represents a financially effective way to jump into the benefits of Ayon ownership without going into negative income crisis and pairing it with the right components could create a great lifetime system and the perfect springboard to some of their heftier offerings which I have reviewed in the past. It is a full-featured pure class-A tube stereo integrated amp switchable between pentode and triode mode making it ideal also for more difficult loudspeaker loads. Say, who does NOT like that? As always it does not hurt to have a friend to help you lift and place this amp. Ayon makes no lightweight gear that I have seen!
Ayon combines incredible build quality with a classic understated yet elegant beauty that never ceases to deliver an aesthetically pleasing experience to both ears and to the eyes. Suffice it to say the WAF is always high. Paula always takes note when we have an Ayon piece in the house from both the visual and audible perspectives. That is saying a lot since she is not so much the dedicated listener like her husband.
I do have one nitpicking, no, make that two nitpicking little things to complain about and I would prefer to get them out of the way now.
First nit to pick… If you are not familiar with the brand and you are a normal guy who reads the instructions only when it is a last resort, then you may spend days figuring out how to turn these things on! The placement of the power switches is on the bottom of the chassis and depending on unit can range from right at the lower left corner to somewhere east of that. A little visual clue as to location, say a dot on the front of the chassis directly above it would be nice.
Second nit to pick… Can we please have a BLUE led option for illumination? The red conflicts with the blue lighting scheme of my room and it interferes with my fung when I am shwaying!
Okay I have that off my chest. Now for the more important and more positive things.
Let's take a look at the basics as described by the manufacturer:
Class of Operation is switchable between Triode or Pentode mode, Class-A. Power tube complement consists of 8 x KT150s. Load Impedance is either 4 & 8 Ohms. Bandwidth is stated at 8Hz-70kHz. That set of power tubes mentioned above with give you an output of 120 watts per channel in Pentode mode and 70 watts per channel in Triode mode. This integrated amp is no fly weight. Even in Triode you can push some serious air volume around the room.
Frequency Response is rated at 10Hz – 60kHz, with an Input Impedance at 1kHz 100KΩ.
The Input sensitivity (full power)is 1V NFB .0dB
It boasts a Volume Control that is MCU based with analog resistor switching circuit (1,5dB per step) operable with Remote Control! Love those remote controls more and more everyday as I climb into my 60s!
Input Compliment is 3 x Line IN, 1 x XLR IN, 1 x Direct IN, with Outputs being one 1 x Pre Out
Chassis dimensions (WxDxH) 21 x 17.25 x 10.25 inches
Weight 100 pounds.
Let me tell you it is every bit of that 100 pounds. The part I like less and less as I climb into said 60s. Find a good home for it and leave it there!
As is always the case with Ayon products they come with top notch packaging. Two boxes and incredible inner packing. All tubes have been pre matched to the unit and are clearly marked. Once you locate the amplifier where you want it the tube install is quick and easy! The operator's manual (for those inclined to use them) is very straightforward and simple just like I need in my golden years. Yay for the AARP crowd.
Once up and running I let it run in for at least 50 hours or so. I have found that with Ayon products letting them run in for sufficient time leads to a far more enjoyable listening experience. The Triton III was no exception.