Ayon Auris II "Reference" preamp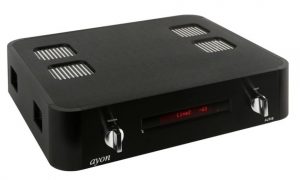 Since its market launch in 2014 the Auris has gained an excellent reputation worldwide and it is one of the rare tube preamps capable of transferring its fabulous tonal characteristics to the best advantage to the rest of the installation or respectively co-impress it. All this caused us to further consequently fine-tune it in the background to make this preamp even more exceptional and put it to the utmost in every detail. We have reworked the output stage, the power supply, the phono stage (new phono re-design) ant the quality of the components has been readjusted on the decisive points,
The low Output Impedance purist parallel Single-ended 6H30 circuit topology is using zero dB negative feedback. The Line Gain is customer Switchable, 0dB or +6dB. Therefore, the Auris II preamplifier is also very flexible in combination with any type of main amplifier. Of course, we have retained and even intensified the modular and upgradeable concept. Options unbalanced or fully balanced, Signature version and Phono MM/MC-H, MC option for all varieties. All existing Auris I version preamps can be retrofitted to the newest version II.
This "Reference" preamp represents the highest standard of preamp based on 6H30 design achievement. Excellence in engineering, a special tube rectified power supply and superior premium components provides a special magic to the reproduction of music. The performance of the new Auris II is outstanding, very musical and neutral, transparent and vivid in its presentation. There is a huge space of the recording environment reproduced with uncanny realism. It offers a holographic soundstage previously unavailable at this price class.