Ayon CD-1 — Best Product of 2008 Review by High Fidelity – Poland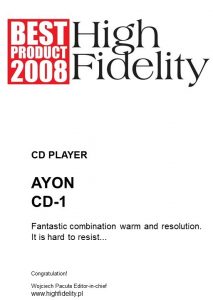 FIFTH YEARS OF "HIGH FIDELITY" AND WHAT DOES IT RESULT
On May 1 this year, "High Fidelity" will hit fifteen years. Nothing, but something. At that time, the world has changed beyond recognition, technology has also changed, and we have changed. Also "High Fidelity", the magazine you are reading at the moment, has also changed several times. On the other hand, it still remains what it was at the very beginning, at the moment when the idea arose – an expression of my fascinations and passions.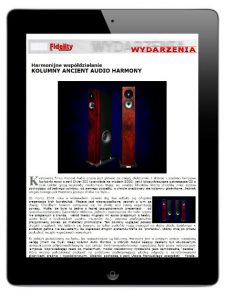 This is what one of the articles in the first issue of "High Fidelity" from May 1, 2004 looked like
We will celebrate this jubilee this year, because just then, on May 1, 2004, the first issue of the magazine was published, which initially was called "High Fidelity Online" and which after registering the title in court shortened the name to "High Fidelity". Although we still have four months, we would like to invite you to celebrate together now. For example, by sending us memories, shorter or longer texts about how our magazine has enrolled in your memory. We would like to publish them every month, for the whole jubilee year, or in full in May.
We also have an idea that you would like to think about the presence of "High Fidelity" on Wikipedia. Once, one of the readers tried to do something about it, but from what I know, it was immediately banned by the "higher charge", for which HF was not a warehouse, but an unspecified ephemera. I think, however, that fifteen years in the network, tens of thousands of readers per month, presence in the letters of this type all over the world is enough to recognize us as a real being who will receive "permission" for his slogan in the end – open, democratic and unbiased to anyone and nothing encyclopedias …
In any case – I invite you, dear friends, to create such an entry, preferably immediately in the Polish and English (and maybe others) versions. I will be very pleased if in this way you will show your sympathy for our magazine and let you know in this way for others – people, magazines, countries – that we have something in the country over the Vistula River, something valuable and interesting. I promise all help in establishing facts, I also have archival photos.
We also talked to several producers about the joint celebrations and it is already known that we will prepare special versions of several products together , prepared together and bearing the appropriate logo. We would also like to see one or two CD releases on this occasion – we also talk about musicians and publishers about it. And in turn, Dirk Sommer, chief editor of the hifistatement.net magazine, with whom we cooperate, but also the publisher – Sommelier Du Son – promised that he would record a record for us, preferably in Poland, of a Polish band. We do not know what will happen to us, but we strongly believe that the majority 🙂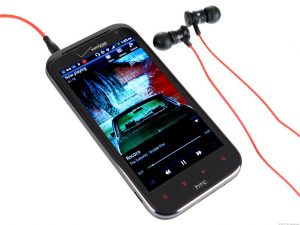 What about the world? The world has changed in this time, some say it is worse. The audio industry has also changed, and the changes have been driven by the development of the Internet. Is it also worse? – Probably not, it's just a change and you have to adapt to it. After a deep depression, he fell in with the advent of audio culture players first, then home theater, MP3, "smart homes" (type systems custom ) and other attractions, stuck it, and regrouped themselves quite well, in my opinion, we advise you. However, we do manage quite different positions than before and this is probably the reason for complaints I often hear.
The fifteen years in question is a huge change in the way we consume, that I will express, cultures – including music. We listen to it more than ever before, it is available in a previously unprecedented and cheap way like never before. But the thread connecting young people, with their headphones and smarfons, streaming from You Tube, Spotify, the thread between them and the "adult" audio, or audio perfectionist, high-performance, audiophilism, or how exactly are we out there at the moment? this thread is thinner than ever before in the history of mechanically reproduced sound.
Over the years, the basic source of music was radio and 7 "singles.
Once widely understood as "young" they listened to exactly the same products, which understood equally widely "old", they differed only in size, degree of complexity and price. Let's recall, for example, the madness of "forty peks", or singles – it was popularized by rock'n'roll, and people listening to it – young people. If they did not buy millions of singles – until 1954, they sold 200,000,000 – never the niche format of RCA Victor would have gone beyond the phase of the children's toy, which role he was perfectly suitable for. Neither the sound quality, nor even the comfort were good for the single. It was still a vinyl record and it was a gramophone, meaning playing hi-fi, only on a smaller scale.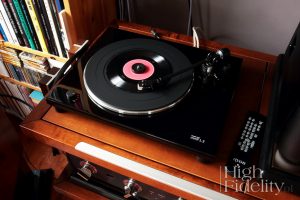 The listeners of today's stream in poor mp3 quality are perfectly the same – they are looking for immediate excitement, energy and access. If they do not find the song in a few seconds, they leave it without regret. And how to force people to take out a CD, put it in a drawer, or put a turntable on a plate? The hopes in the black disc and the fact that it will be the decoy for the young are – in my opinion – laughable. Research shows that almost half of them bought LP without having a turntable and not planning to buy it. It is for them another gadget associated with music only through a network of cultural connotations, not through sound.
Why am I writing about it? "The last fifteen years of working on the web have only confirmed me in what you can read this month in an interview," says Mr. Luis Fernandes, founder and recently again the head of the finite elemente: "shoemaker, stick to your craft!" The thing is simple, though still so many, it seemed to be sensible and leer people, does not seem to understand the simple principle – that you should stick to what you know best.
In the perfectionist audio industry, it's extremely important. Because this is a special occupation. Completely fused and peeled off from the "real" world. Real, of course, in quotes, because for us, often simply stupid and dull, which not only does not understand what we do, in addition to what it does not understand – ridicules. What we do is real for us, is not it? But to the point – I mean that it will never happen that audiophilism will be a mass hobby, I will repeat: never. What's more, he never was either. He was always the starting point, the summit to gain.
Snail Project column system – Franco Serblin's first design for his Sonus faber company – photo from the High End 2017 show in Munich
It is not the same with many currents and fashions followed by producers, distributors and the press. Do you remember something like home cinema? I mean the phenomenon and the craze on this point. As a new group of recipients appeared on the market, everyone started to do this and, for example, many audio magazines turned into warehouses combining TV, home theater and stereo tests. Nobody did it for good.
It is clear that he was referring to "following money." However, this has blurred the whole industry, which now, when the home cinema is what it should, that is, furnishing the home, not necessarily a hobby, can not really get to grips with what is happening. Later, we had a pointless audio connection to the "custom" market, i.e. "Smart homes" and then to soundbar devices. This is not our world and it will never be.
The situation is very similar today. What is the new home cinema? Ano – portable audio. People in the industry reason in this way: if so many people are listening from mobile devices, you have to use it and make money from it. And again – it's normal, but it does not make sense. This is not the way, the young do not read industry magazines, based on what they read in social networks, what they see on television, etc. So they follow mass messengers, and there the audio we're dealing with has never been present and will not be.
You remember the craze on the so-called docking stations for iPod? Each producer had to offer them, and even the greatest specialists suggested devices – usually amplifiers – equipped with this system. It ended up as it ended, or a complete lack of interest on the part of people listening to music from an iPod. And audiophiles disgusted and rejected it.
Docking station from Krell – Krell Interface Dock (KID). Photo: Krell
Although there is a thing that left us with mp3, but is more connected to the computer environment than portable audio – audio players. It is the real value and future of audio. But, again, on our principles – see Telegärtner Japan Limited M12 Switch Gold , which is again a product that "normal" people do not fit in the head.
Because audiophilism is a niche hobby, from the point of view of the "world" at least suspicious. What reflection we find is in the mainstream of culture. Please remember what I wrote about the audiophile image that works outside. It's someone "separate", different, usually not quite normal, often dangerous. It's enough to look at who and what audio devices he uses in such films as Mechanical Orange (directed by Stanley Kubrick, 1971), Lara Croft: Tomb Rider (directed by Simon West, 2001), Girl with a Tattoo (directed by David Fincher, 2012) that I will summon only the most obvious ones.
And the latest Polish cinema? – I would like to ask you: a great system based on a gramophone has a priest who listens to classical music, one of the smallest figures in the film Kler Wojciech Smarzowski (2018), and in the series Ślepnąc from lights Krzysztof Skonieczny and Jakub Żulczyk a really cool system has the main character, eccentric, listening to Chopin ( !) a member of the powder trading gang. Besides, the gramophone is the source in his system. We can at least comfort ourselves that we are not in this perception alone, there are also music lovers listening to the classics with us …
The main character of the series Blind from lights has Rega turntable system, T + A amplifier and Audiovector loudspeakers.
However, there is nothing to worry about – the unknown is always "dangerous". That is why events that familiarize people, mainly young people, with audio are so important. It is not even about their conviction, but about familiarizing themselves with the bizarre – from their point of view – construction, and in the future, perhaps, attracting to the world of music played at the highest level. I would not expect, however, that it will immediately translate into double sales, it does not work like that. Audio is an offer for people who have money on the one hand and know what they want on the other. Although the sellers and distributors most often despise them, they do not understand, this is the "salt of this land" and they are real buyers, not imagined, prayed "young".
I saw all these changes and tried not to participate in them. It was not always successful, but – I believe – the balance is a plus. I kept on with the stereo believing that it would survive all fashions and short-lived mantas. I wrote about what I like and what interests me. Only then is there a chance to communicate with readers. With you.
Welcome to the fifteenth year of "High Fidelity" and once again invite you to celebrate together!
Wojciech Pacuła,
editor-in-chief