Ayon CD-35 "Stereoplay" – June 2017, Germany
Review summary: English Translation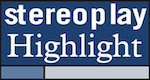 "Actually, this machine is completely crazy. Or absolutely ingenious?"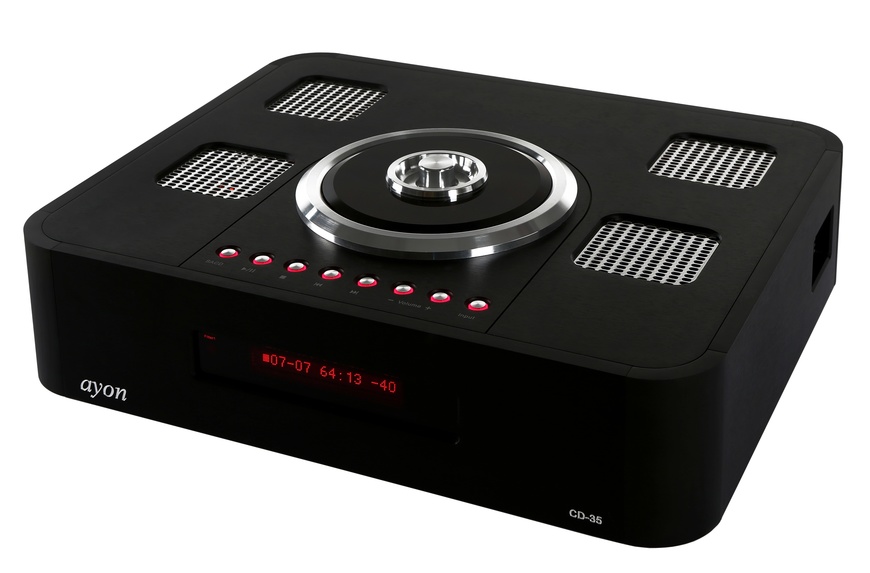 "The Austrians, famous for sheer monumental solutions, indeed do not incorporate in their top-player one of the usual "me too.." valve assemblies but rather an absolutely cunning elaborate amplifier section equipped with noblest components, and moreover relies on a power supply equipped with tube regulated rectification as well."
"Let us answer the last possibly most interesting question to the Ayon: yes, it sounds better – "more analogue" if you will, a vein softer friendlier more emotional even if the latter may be a subjective criterion. But: to convert any CD-format, no matter whether from the drive or the software NAS, in DSD256 has a special appeal. In the end the DSD-conversion was kept always active on the CD-35….
The CD-35 proved itself also as tube preamp via its analogue inputs, put its distinctive Ayon mark on the sound: powerful bass and fundamental tone, enormously playful, super dynamic with fine details, but no analytic wonder. Instead there is a touch of friendliness and a shot of warmth, velvety incredibly beautiful reproduction of voices and a fulminant spatiality with particular impressive width. To like the CD-35 is everything else but difficult, to addict to him easily possible. The more so as it conjures a real bundle of tonal joy out of the CD, a fascination one van easily succumb to.
Ayon's intentions: what Ayon had intended with this player, proves to be fully successful: to preserve the significance of the CD-collection, to additionally provide a premium tube-amplifier and add a heavenly DAC on top."
Assessment: "CD/SACD-player, pre-amp and special DAC: Ayon's marvel drives the CD to new high-flights and also works jointless with the computer. Dream sound via DSD!"
Outstanding value for money.
Awarded the Stereoplay Highlight logo
Test Fazit: German original
"Diese Maschine ist eigentlich komplett verrückt. Oder absolut genial ?"
"Die Österreicher, die in Sachen Röhren für geradezu monumentale Lösungen bekannt sind, bauen in ihren Top-Player freilich keine der üblichen "..Ich auch.."-Röhrenbestückungen ein , sondern vielmehr eine absolut ausgefuchste, aufwendige Verstärkerstufe, die sich zudem im Netzteil auf eine ebenfalls mit Röhre bestückte Gleichrichtung verlässt und mit edelsten Bauteilen versehen wurde."
"Beantworten wir doch gleich die letzte, womöglich interessanteste Frage zum Ayon: Ja, es klingt besser –"analoger", wenn man so will, eine Spur weicher, freundlicher, emotionaler, auch wenn Letzteres ein subjektives Kriterium sein mag. Aber: Das CD-Format-egal, ob vom Laufwerk oder aus dem Software-Player – in DSD256 zu wandeln, hat einen besonderen Reiz. Zuletzt bleib die DSD Konvertierung am CD-35 einfach immer aktiviert…
Der CD-35 bewährt sich auch als Röhren-Vorverstärker über seine Analogeingänge, drückt dem Klang aber den bald schon unverwechselbaren Ayon-Stempel auf: bass-und grundtonkräftig, enorm spielfreudig, superdynamisch und fein detailliert, aber kein Analytik-Wunder. Stattdessen gibt es einen Hauch Freundlichkeit und einen Schuss Wärme, samtene, unglaublich schöne Stimmenwiedergabe sowie fulminante Räumlichkeit mit insbesondere beeindruckender Breite. Den CD-35 zu mögen ist alles andere als schwer, ihm zu verfallen, leicht möglich. Zumal er aus der CD einen echten Klang-Wonneproppen zaubert, ein Faszinosum, dem man allzu leicht erliegen kann.
Ayons Absichten: Was Ayon mit diesem Player beabsichtigt hat, geht jedenfalls voll auf: der CD-Sammlung ihren Stellenwert erhalten, einen hochwertigen Röhren-Vorverstärker mitleifern und einen traumhaften DAC obenauf ins Paket packen".
Bewertung: "CD/SACD-Player, Vorverstärker und Spezial-DAC: Ayons Wunderwerk treibt die CD zu neuen Höhenflügen und arbeitet auch fugenlos mit dem Computer zusammen. Traumklang via DSD!".
Preis-Leistung: überragend
Ausgezeichnet mit dem Stereoplay Highlight logo