Ayon HA-3 "High Fidelity" No. 151 (English Version)
December 2016, Poland
Text & Images: Wojciech Pacula         / December 2016   /     No.151
It is very difficult to understand why companies specializing in devices based on electron tubes did not rush to the new market segment, which suddenly opened up to them – the headphone amplifiers' one. Very few really noticed this opportunity and made some effort to solve, it would seem, a simple problem, of creating an amplifier designed to drive headphones. Which is strange because this part of the audio market has been rapidly growing n the recent years attracting even some companies that never had anything to do with it.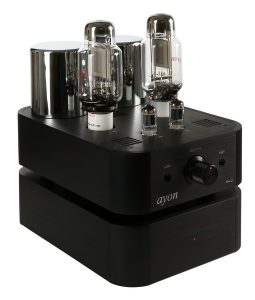 It is no coincidence that today one finds headphones in lineups of many loudspeaker manufacturers even such prominent ones as: KEF, Bowers & Willkins, PSB, Focal JM-Lab etc., because all of them had the experience in the field of electromechanical transducers – although historically speaking, companies specializing in microphones became also specialist in headphone making. These are brands such as: Shure , AKG, Sennheiser, Beyerdynamic, Audio-Technica, or Sony. But apart from them also some other companies with indirect experience, joined the "market fight" too, such as: Harman/Kardon (via Revel) or even some having no experience at all, such as: Audioquest and Cardas. The reason for this change was, it seems, a desire of expanding to a new market segment, that at the time wasn't that crowded as the other ones.
The number of new models, brands, designs available in the second decade of the 21st century is incredible. The more incomprehensible it seems to me the silence in this matter of such companies as: Kondo, Ancient Audio (apart from the solid-state P-1), Octave, Jadis http://www.jadis-electronics.com , and until recently also Ayon Audio. Why is this happening? Could it be, perhaps, because different laws apply to headphone amplifiers and one needs proper experience to design something that would be good enough to uphold company's reputation? Probably yes. But when someone takes the risk and devotes time and efforts to such purpose, they might come up with unique devices, such as ones offered by American Woo Audio. Let me remind you that in Poland, one of the most important pioneers of the tube headphone amplifiers was the Dubiel Accoustic company.
Or maybe there is another possibility – the owners and designers of companies focused on tube designs usually listen to music using high-efficiency loudspeakers, often large in size. It is not possible to transfer such sound into the world of headphones, because here room acoustics element is not involved. As it happens in life, probably both of these explanation include some truth but are incomplete and there must be some sort of a "trigger" to ignite a concept mechanism, a series of events that can culminate with the decision to build a headphone amplifier.
HA-3
HA-3, a tube headphone amplifier by Ayon Audio, was in a way, "inevitable", it just had to wait for the right time. And this time came, it seems to me, along with the Conquistador preamplifier, a completely new Ayon's design, which uses, instead of Siemens C3m pentode, used eg. by the German Post Office, the 45 triode, the AA45 Mesh version produced by Ayon. Precisely the same tubes can be found in the HA-3 amplifier. The are driven by the dual triode 12AU7, which is less common than 12AX7. The entire circuit works in class A.
The tubes look really nice in a small, but extremely robust housing, which is a smaller version of the chassis used, among the others, for Scorpio Black monoblocks. On the front side there is a knurled knob to adjust the volume, and next to it, an alphanumeric red LED display, which is lit only for a few seconds after one adjusts volume. HA-3 can be fed only with an unbalanced signal as it is an unbalanced design – the headphone output is also unbalanced. We can use a wide range of headphones with it – the manufacturer claims it will work fine with impedance loads between 16-600 Ω, which is very wide range.
HA-3 is a tube amplifier, but not entirely – is powered from the solid-state power supply. It received a separate chassis of the same size as the amplifier's, minus – of course – transformers and tubes on the top. The power features an on/off switch placed on its bottom. Both modules connect using a multi-core cable terminated with connectors similar to those used in Spheres III, only smaller.
GERHARD HIRT
The Owner
WOJCIECH PACUŁA: Who designed HA-3?
GERHARD HIRT: The HA-3 was designed by our two Preamp engineers, who are normally doing only Polaris, Spheris and Conquistador, but this time they got a special job and based on their preamp extensive experience they developed the HA-3.
Why did you choose 45 triode for this project?
We believe that the AA45 tube is the best sounding one for "low signal" designs, like in a preamp ( Conquistador) etc. and of course perfect for headphone amps, like the HA-3.
I've noticed that there are two coupling capacitors in signal's path instead of one, and additionally, two of different type …
Well observed: In this position where the cap is located, it is a very critical place and in the headphone amp more sensitive than in any other device.
We were trying so many caps but with none of them we were 100% satisfied until we started up with an unusual combination. Two totally different caps and also different values from even different series. The black one (Mundorf Supreme Evo – Silver Gold ) has only 0,001 uF capacity, which normally is too small to have any meaning, but when used in combination in this SET/DHT design with the white one, 0,47uF Mcap Evo, it delivers an outstanding performance. These two together add so much "air and space" – that caught us by surprise too, no other cap (of standard value between 0.1 to 0,47uF for this purpose) could do that. Again the black cap is not 0.1, or 0.01, it is ONLY 0.001uF, but is makes a huge difference in the HA-3 design!
The HA-3 is a two-box amplifier, powered from power grid. The power supply and the main part are connected using a flexible, quite long cable, so it's best if we put them on separate shelves. If side by side is necessary leave as much space between them as possible. During the test the amplifier section stood on its own feet, on the top shelf of Finite Elemente Pagode Edition rack, while the power supply was placed on a lower shelf, additionally on the the Acoustic Revive RAF-48H anti-vibration platform. On top of the power supply I placed passive EMI/RFI Verictum X-Block filters. The device was powered using Harmonix X-DC350M2R Improved Version (2 m) and Hijiri 聖 SMT 'Takumi' Maestro (2 m) power cables.
The amplifier was compared with a "High Fidelity's" reference, the battery-powered Bakoon Products HPA-21, using its current output. I used also the Synergistic Research HOT filter. The basic headphones for this test were the phenomenal HiFiMAN models – HE-1000 V2 and V2 Edition X, but I also tried it with: AKG K271 Studio, AKG K701,  Beyerdynamic DT-770 Pro Limited Edition (32 Ω), Beyerdynamic DT-990 Pro (600 Ω), Sennheiser HD800 and HiFiMAN HE-6.AYON AUDIO in "High Fidelity"
Recordings used for the test (a selection)
Abraxas, 99, Metal Mind Records/Art Muza JK2011CD07, gold-CD (1999/2011)
Duo Bednarek-Zgraja, Walking Colour, Poljazz/GAD Records GAD CD 047 (1983/2016)
Galahad, Sleepers, Avalon Records GHCD4, CD (1995)
Galahad, Sleepers, Avalon Records/OSKAR Productions OSKAR 1065 CD, CD (1995/2015)
Gesualdo, Terzo Libro di Madrigali, wyk. La Compagnia del Madrigale, Glossa GCD 922806, CD (2016)
John Coltrane and Johnny Hartman, John Coltrane and Johnny Hartman, Blue Note/Esoteric ESSB-90138, SACD/CD (1963/2015) w: Impulse! 6 Great Jazz, "MasterSound Works", Blue Note/Esoteric ESSB-90133/8, 6 x SACD/CD (2015)
Kendrick Lamar, To Pimp a Butterfly, Top Dawg Entertainment | Intersope/Universal Music Japan UICS-1287, "Sample" CD (2015) ;
Oscar Peterson, Unmistakable, Sony Music/Zenph Studios 951702, "Zenph Re-Performance", CD (2011)
Portishead, Dummy, Go! Disc Limited/Universal Music Company [Japan] UICY-20164, SHM-CD (1994/2011)
Rosemary Clooney, Rosemary Clooney sings Ballads, Concord/Stereo Sound SSCDR-007, "Flat Transfer Series", CD-R (1985/2016)
No one would probably say anything, if the HA-3 proved to be one of those devices that being the first in company's history, opening a new area of interest, was a good, successful, maybe even really successful product, and yet not quite as good as what this company offers in other areas o its activities. In the specialist, perfectionist industry, which audio is a part of, the first, second and third key factor when making a great sounding device is: experience, experience and experience, while money and reputation might only support it but never replace it.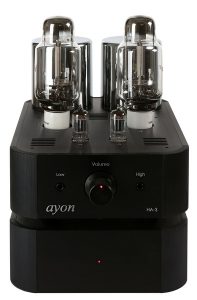 But the truth is that the Ayon headphone amplifier is a mature product. That means that it delivers performance as if there were many other amps of this type in Austrian company's lineup before, and it was the culmination of this road towards perfection, a ripe fruit of many years of effort. This maturity/ripeness is based on filling in the outlines with a living tissue.
HA-3 presents music in an effortless way, with en ease but firmly. Anyone who has ever had earphones on his head for more than a short demo will be delighted with volume of the instruments. The sound is rich and dense, which translates into a large phantom images. It is especially clear when it comes to the vocal recordings and those with instruments that operate in the middle of the frequency range.
Madrygały by Gesualdo performed by La Compagnia del Madrigale are the best example, but it's not about narrowing the repertoire to the acoustic, ascetic music captured in a real acoustic environment of the church. Because I perceived exactly the same way the Rosemary Clooney Sings Ballads album and – which should better work for your imagination – Dummy by Portishead. Every album, whether jazz, rock, classic confirmed what I heard at the very first moment: Ayon offers a truly beautiful performance!
It's the kind of amplifier that doesn't force user to become picky about which music can and which shouldn't be played on it. Despite the fact that we're talking about a device that does not mask the own character of each recording, at most it appropriately corrects them. It's a real high-end amplifier, so it delivers a lot of information about the recording. Yes, these are slightly modified (every audio device modifies the signal in some way), but these are planned changes resulting from a certain idea for the sound, developed by Ayon's engineers and Gerhard Hirt's approved. They do not go towards blurring of differences, nor quench problems, but rather offer somewhat different perspective for each recording.
HE-3 proposes a big scale, warm sound. I'm not an orthodox and I don't blindly push for certain solutions, such as tube, for example. But I also understand perfectly what they bring to the sound which polarizes audiophile strongly – most either love tubes or hate them. Ayon clearly benefits from their advantages and raises them to the level of art. Above all, it saturates sound with harmonics, that we usually perceive as emotions. If emotions are what you are looking for in the music, you won't b disappointed, there will be plenty. As with that said Portishead album.
Being a pioneer of trip-hop, this group recorded their debut album in the lo-fi style, with two track even being recorded in mono. Still, with devices such as HA-3, the album makes an electrifying impression. The beautiful It Could Be Sweet and Glory Box tightly filled the space between the headphones without attacking with a mass of the sound, or even less so with excessive detail, which is not liked by both. headphone novices (those with claustrophobic sensation) and the experienced headfiers (those in turn, know this trick and how tiring it might get). I do not know whether this was the intention of Gerhard, but it seems to me that HE-3 in many respects emulates the sound qualities I know from Crossfire Evo amplifier, working with my Harbeth M40.1 loudspeakers.
So: there is this richness and density of the sound. The attack is slightly mitigated, and the main emphasis is placed on the sustain phase of sound, which results in exactly what we talk about here, the "mass" of the sound. It's a presentation with large instruments, their have clearly rendered bodies, which promotes direct sound over the reflected (echo) one. If it was just a warm, dense sound, an impression foreground domination would be clear – I mean in headphone listening categories. And here the sound is a little more distant from us. The binaural recordings do part of the job for us, regardless of the system, but with the HA-3 the sound is not right in front of our noses, but rather a little further – both with this special type of recordings and with classic albums.
At the same time the edges of the "soundstage", meaning sounds located to the extreme left and right are shown wider (further away from each other) than with my reference, Bakoon Products HPA-21. It's one of the things that are so intriguing about the Ayon amplifier. The space in front of us is fully filled with sounds. Bakoon delivers a narrower stage, and the instruments have a slightly smaller volume. Paradoxically, it is Korean amplifier that presents events closer to the listener ie. the sound in axis is closer, more accurate and clearer. Ayon, because it delivers a large volume sound, makes similar an impression, but only for a moment.
Both range extremes are serving the midrange with Austrian device. Not to the narrow mids but to a wide sound panorama where cymbals in the top and lower end can be heard in a less clear and direct way, as with the Bakoon. This modification is unambiguous, but its assessment is not. Bakoon offers a cleaner sound and more accurately defined phantom images, so what? Ayon is not as resolving, does not define everything in such a perfect way, and yet the sound with it seems to be truer.
Which reminds me listening to Master CD-Rs and comparing them with regular CD version during the meeting of the Krakow Sonic Society # 105. Opinions were divided as Master CD-R sounded more like Bakoon and CD as Ayon. I know that what's on the CD-R is closer to the "truth" of mastering studio, I heard it, but I can not fail to notice that the CD changes the sound towards richness and sweetness of vinyl record. Hardly anyone will tell you that vinyl doesn't sound natural – not necessarily in a way one artist sees it (see. EMADE-(S)TWORZYCIEL), but certainly it is never not natural. And that's how HA-3 sounds like.
It doesn't really matter what headphones will one use. Ayon will perfectly show their own character, but it implements its "filters" that add some density and weight to the sound and slightly rounds the top end. Bass is well extended and only Bakoon can control it a little better where other amplifiers fail at all. Even so difficult to drive headphones as AKG K271 Studio and 32-ohm version of the Limited Edition model DT-770 Pro Beyerdynamic sounded classy. But it turned out to be a phenomenal combination between HA-3 and my well over 15 years old DT-990 Pro (600 Ω). It delivered a great tonal balance and beautiful spacing. The amplifier proved powerful enough so that the HE-6, which is usually to difficult for most headphone amplifiers, played very well without compression and distortion.
Summary
Tube amplifiers occupy a special place in the audiophiles' heaven. The first Ayon's headphone amplifier sounds as if Austrians had years of experience designing this type of amps. It delivers a beautiful, big, warm sound, with absolutely no irritating, no bothering elements. This is high-end, so there is no masking of details and colors, not to mention the dynamics. I have no doubt that music lovers looking for excitement and emotion in the music will be delighted. Ayon by slightly emphasizing lower midrange and not attacking listener with detail (and yet differentiating recording very well) will lead them to their own imaginary, private paradise.
Is it possible to find even more refined, better sound? Sure – the top Woo Audio amplifiers (much more expensive, I should add) are even more resolving. But even they can not top Ayon in terms of this wonderful timbre presentation. And there is also Bakoon that goes even deeper into the recording, conveying in even better way its acoustics and more clearly emphasizing the impact/attack that might have some significance for some eg. when listening to piano recordings. However, a set of qualities that HA-3 proposes is hard to beat and simply irresistible. So could I not award it with RED Fingerprint? I simply don't have a choice here…
A robust aluminum housing, black anodized, is sort of Ayon's trademark. HA-3 received its smaller version, but it by no means is less rigid or less resistant to vibration. Theoretically, one could place one on the top of the other, but it would be contrary to the idea of separation – it's better to place them on separate shelves and, if there is no other choice, next to each other. The device feature small, plastic feet, which probably the owners will quickly swap with so specialized anti-vibration products – I'd recommend ones from Pro Audio Bono or flat ones made by Franz Audio Accessories.
The internal design seems quite elaborate, ie. high quality component were used and they didn't forget about such things as high current filament-regulator for pre/driver tubes. Gerhard says that there are "two regulators, 5 A each, or 10 A for a tube, also for the 12AU7 tubes." The power supply is built around large toroidal transformer with multiple secondary windings. The anode voltage is choke-filtered separately for each channel.
The amplifier circuit is mounted on several small PCBs. One of them is a driver section for power tubes, with two double 12AU7 triodes, one per channel. Tubes come from China and have no indication of the manufacturer. In turn, the output tubes are these great-looking AA45 triodes with Ayon logo. Selected polypropylene capacitors, soldered in parallel operate as couplers: Mundorf Supreme Evo – Silver Gold with a capacity of 0,001 uF Mundorf MCAP and Evo with a capacity of 0.47 uF. These particular caps were selected as a result of numerous listening tests.
Volume is changed in high-performance stereo volume control Burr Brown PGA2310 – a knob on the front panel works with encoder. For RCA inputs Ayon used gold-plated, high quality jacks. But I am more than confident that there will be those, who are going to ask for some Furutech or WBT ones instead. A signal to the tubes is delivered via long interconnects.
Specifications (according to manufacturer)
Class of operation: Pure Class A, SE Triode
Tube complement: 2 x AA45 Mesh, 2 x 12AU7
Output impedance (headphones): 16-600 Ω
Output power (@ 32 Ω): 500 mV
Frequency response (@ 32 Ω ): 15 Hz – 35 kHz
Input impedance (1 kHz): 50 kΩ
Input sensitivity (@ max power): 700 mV
THD: 0,01%
S/N ratio (@ max power): >100 dB (unweighted)
Channel separation: >89 dB
Negative feedback: none
Input: RCA
Power consumption: 65 W
Dimensions (amp/power supply, WxDxH): 220 x 300 x 200 mm/220 x 300 x 100 mm
Weight (amp/power supply): 8/7 kg
Polish distributor

NAUTILUS


ul. Malborska 24
30-646 Kraków | Polska