Ayon – BlackFalcon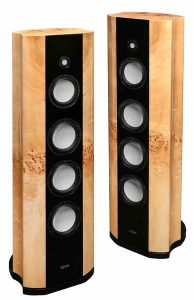 " Timeless design, modern elegance and outstanding technology "
The BlackFalcon is the consistent advancement of the legendary former Ayon ceramic loudspeaker series (Seagull, Hawk, Falcon, and Eagle) anno 2003 – 2010. Only 9 years later with the new ceramic chassis technology we could develop further the loudspeaker decisively mounting ceramic chassis. Implementing specially produced special impedance bass-chassis-coils we could draw the impedance up and design the acoustic 6dB-cross-over much simpler. Also, the improved "almost not damped" elliptical Ayon instrument plywood cabinet (with its unequalled all-around radiating characteristics – by means of the elongated elliptical front plate the sound being carried into the room far and quasi "all around") further contributes to the very easy operation of amplifiers, particularly the lovers of low-powered solid-state and tube amplifiers could hardly avoid this loudspeaker.
The speaker is additionally equipped with a special transistor-tube crossover network circuit, that probably is unique until today. Here, especially in the position "tube amp", for the first time a speaker configuration is responsive to and adapted to the properties of single-ended as well as push-pull tube amplifiers.
The BlackFalcon distinguishes itself by a very three-dimensional, sophisticated, transparent, light-footed, and spatial reproduction, with the bass playing dynamically, deep, and powerful.
The BlackFalcon is an audiophile universal genius, incarnating all attributes of an uncompromising reproduction of the absolute highest level.