Ayon HA-3 "STATE – OF – THE ART"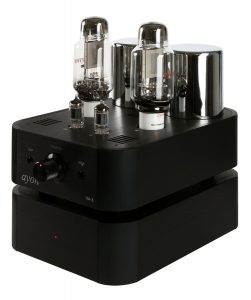 The HA-3 was developed for headphone lovers searching exclusively the very special music experience.
It impresses with it's Single-Ended-Triode technology taken to its respective extremes by Ayon in all their products. Selected in-house AA45 Mesh super triodes, the perhaps most perfect and best sounding low-power triode for headphone amp design, are applied in combination with special super-permalloy wound output transformers.
At the HA-3 deliberately all useless gimmicks have been omitted. The HA-3 is designed without compromise in its circuitry as well as in its power conditioning; therefore, a separate top-class power supply was inevitable; on the one hand it guarantees extraordinary voltage and current stability and lowest hum.
With its powerful, airy, and lively play, paired with a superb spatiality with emotional reproduction the HA-3 drives every dynamic headphone to absolutely maximum tonal performance. From treble in brilliant resolution to absolutely authentic colourful mid-range and a deep resilient bass. At the same time, it fascinates by its incredible ease, closeness and control at any kind of reproduction that is second to none.