Show Report: Bristol Hi-End Show 2008, England

Ayon CD-1 CD player
The CD-1 debuts in the vacuum tube CD player arena promising a 'remarkable union of innovative design concepts and refinements of existing technologies'.

The vacuum-tube output stage complement consists of dual 6H30 EH and dual 6922 EH tubes that deliver a visceral, warm and fluid midrange without letting the higher frequencies become too harsh or overbearing.

The CD loading mechanism – having to physically remove the brushed metal lid and inner cap to change CDs – is a curio, but only adds to the quirky design aesthetic Ayon seems intent on pursuing.

We sat and listened to the CD-1 for a little while as we toured the show (everyone needs a break after all) and have to say the CD-1 was a capable and beguiling performer.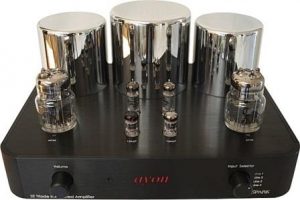 Ayon Audio Spark integrated amplifier
The newly launched Spark single-ended triode amplifier has been dubbed as a 'super value' entry-level integrated vacuum tube amp for 'real music lovers'. One thing's for certain, it looks the business with its brushed steel black bod and high-shine tube complement.

Following on from Ayon's triode and pentode playing Spirit amp, the Spark has abandoned the weaker pentode to concentrate on the positive features associated with this type of amplification, namely abundant power, tonal neutrality and outstanding dynamics.

Peak output power is rated at 2×35 watts with a frequency response of 12Hz-28kHz, with class A circuitry and the latest transformer design lending class to the sonics. We listened and we loved it.
Ayon Audio Heron floorstanding speaker
This piano black three-way floorstander from Austrian company Ayon Audio employs custom-designed and manufactured drivers with premium crossover components and wiring and an advance 'inverted parabolic resonance correction system' cabinet.

Equally at home with single-ended triode, tube or transistor amplification, the Heron uses a one-inch silk calotte tweeter, six-inch paper silicate-coated midrange and three seven-inch paper silicate-coated woofers with a frequency response of 53Hz-23kHz.